Enerpac Hydraulics, Hydraulic Cylinders, Pumps & Valves at Hydraulics2U
Hydraulics2u is the one stop shop for all your Hydraulic and Pneumatic Systems and Components including Enerpac. We offer a wide range of products from basic maintenance requirements to cylinders, pumps and all necessary accessories to create complete systems to suit your needs. Technical data is provided for most products on the relevant pages to ensure you choose the right products but if you need more information or its not provided on site please contact us.

Our staff have many years experience in application and system design and operation so we are happy to provide any help you may need in selecting the most suitable components for your application from ultra high pressure testing equipment, 700 BAR Enerpac Hydraulics or low pressure pneumatic or hydraulic systems please contact us.

We can also provide complete hydraulic and pneumatic systems for specific applications and can design and build complete machines with full control systems in any special materials that you need. If you have a system or machine requirement please e-mail: enquiries@hydraulics2u.co.uk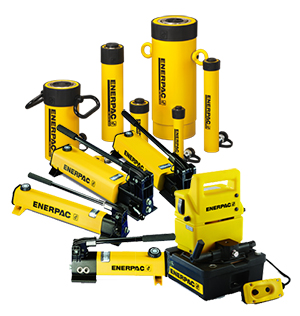 ENERPAC PROMOTION
25% DISCOUNT ON ENERPAC PLASTIC HAND PUMPS, SELECTED CYLINDERS AND ACCESSORIES
THE LIST INCLUDES:

P391, P392, P141, P142 and the PUJ1201B ELECTRIC PUMP
RC53, RC104, RC154, RC256
H7206, H7210, H7206Q, CR400, G2535L, GP10S, HF95Y Oil

GO TO OUR PROMOTIONS PAGE OR CLICK THE LINK BELOW:
Enerpac August Promotions
ALL OFFER ITEMS IN STOCK FOR IMMEDIATE SHIPMENT
____________
STAINLESS HYDRAULICS
Take a look at our new Stainless Steel Hydraulic Cylinder and Hand Pumps, ideal for the most unforgiving environments; for use with water and other corrosive mediums. Click the links below to go directly to the relevant pages.

Stainless Steel Hydraulic Cylinder Info
Stainless Steel Hydraulic Hand Pumps

Click our Marine and Stainless Section above for the full product listing page or use the following link:

Marine and Stainless Hydraulic Components

Explore our new look online store with improved product listings. The new design is responsive for easy viewing on mobiles and tablets as well as on a large screen PC.

Take advantage of our new Customer Login Features which allows:

Product View at your Prices
Product Specific Views - View your special products hidden from non-login viewing
Improved Ordering System
Full Order History - View your Prevoius Orders & Quickly Place Repeats
Receive Special Voucher Codes - Specific promotions for regular customers

A more powerful website for all your ordering needs
Delivery
We aim to make delivery in 24 to 48 Hours but if an order will be later than 5 days we will e-mail you to let you know and give you the option to cancel the order. To contact us regarding an or order or its delivery please e-mail: sales@hydraulics2u.co.uk.
Please note we have a £15.00 minimum order value

.

Please Note:- All goods ordered for payment by invoice will be shipped after payment has been made unless ordered on an approved 30 day account.

If you require goods urgently please e-mail sales@hydraulics2u.co.uk and we will confirm when you will recieve delivery. Please mark your e-mails with high priority.
Buy Enerpac, Hydraulic and Pneumatic Components and Parts, UK from Hydraulics2U